Top Quality

Delivery throughout Europe

Extensive range

Free advice and explanation


HRV Brink Renovent Excellent 400 Plus
Renovent Excellent 400 Plus is very suitable for your energy efficient home. Due to the high efficiency of 95%, 100% bypass, low noise and low Energy consumption is the Renovent Excellent 400 Plus is the best choice to ventilate sustainable. We supply the Renovent Excellent in all versions. Fast delivery times and Low shipping costs!
Uw prijs:
Top Quality

Delivery throughout europe

Extensive range

Free advice and explanation
Meer informatie
Renovent Excellent are ventilation units with heat recovery. Renovent Excellent are of Dutch manufacture Brink Climate Systems. In the development, assessment of the Excellent device are low noise and low power consumption help the starting point. Both assumptions come through reduced internal weersteand and larger fans with backward curved blades. The "constant flow" principle guarantees the end user an optimal ventilation balance. Overall a HRU with the highest efficiency and comfort.
Renovent Excellent 400 Plus are suitable for permanent ventilation and excellent energy-saving modifications or conversions. Also, the heat recovery devices by their good technical characteristics and high efficiency inseparable from a energienulwoning.

The heat recovery units of Brink Climate Systems also called central ventilation systems provide for different lounges central ventilation requirements. Examples of central ventilation products are the Renovent Excellent and Renovent Sky appliances.
Because we can advise the good years of experience Energienulshop with this brand. This for the determination of the proper connections, the type of ventilation to the calculation. We can help you, please call our customer service!
The advantages of the Plus version enumerating for you
Possibilities for connection of CO2 sensor
An additional 0 to 10 volt gate
Connection of a CO2 sensor possible
Connection of the heating coil may
Connecting the preheater possible
Enumerating for ú;
Renovent Excellent WTW
400 M3 with 100% bypass
Free shipping NL
Shipping costs abroad on request
Efficiency of 95%
High EPC reduction
Multiple connection options
Constant Flow control
low noise
Low auxiliary power
Dutch product
Energienulshop chosen brands.
See our installation instructions for the Renovent Excellent 400 Plus through our years of experience with Brink Climate Systems we help you with the juite types or implement Renovent Excellent 400 Plus Dutch made Brink Climate Systems
Pay less for durable ventilation by Energienulshop!
You might also like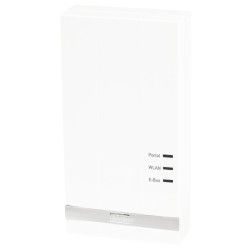 Relevante producten